End of 3rd quarter Lady Comets 40 Lady Pirates 50

At the half, Lady Comets 25 Lady Pirates 32
Final Score from Sparta Crane 75 Sparta 68

1st round of Ladies Marionville Tournament, Marionville 10 Crane 9
After the 3rd quarter Crane 53 Sparta 44
At the half Crane 41 Sparta 33
Crane Varsity Boys @ Sparta After the 1st quarter Crane 24 Sparta 16
Boys JV final score Sparta 17 Crane 10

Crane SRTC students: Please read the following pertaining Vo-Tech courses this week at SRTC: "SRTC will be going on a wellness break beginning on Thursday, January 20 and extending through Monday, January 24. We will be back in session on Tuesday, January 25. Our building has AMI plans in place through google classroom for our SRTC students."

The school will be under a boil advisory tomorrow, so our water fountains will be closed. The District will be supplying each student and staff member with one bottle of water, but ask that each student bring a bottle filled with water from home too. Thank you for your understanding during these uncontrollable circumstances!

We will be dismissing students at noon due to a water main break in the city of Crane. If your child is going home a different way, please contact their office.

Lady Comet Classic Bracket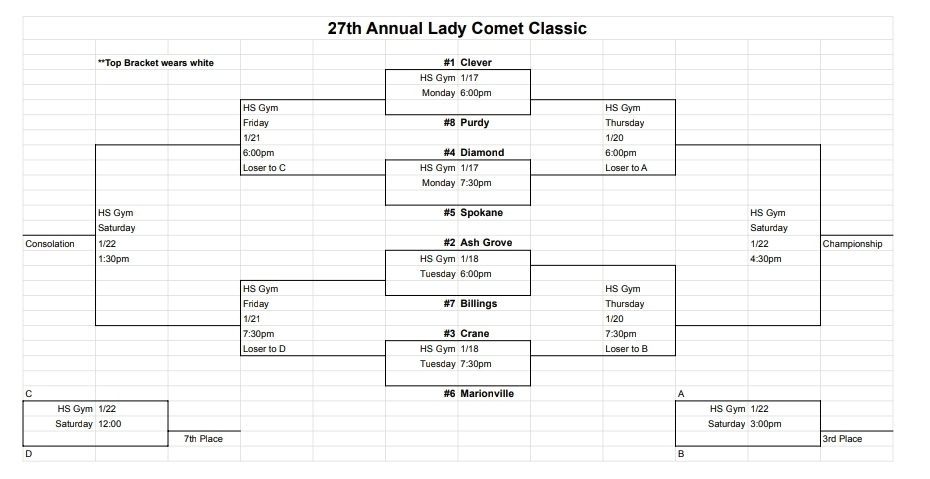 Girls Basketball Lady Pirates travel to play Marionville in the first round of the Lady Comet Classic Tuesday at 7:30

Boys Basketball Pirates travel to Sparta Tuesday at 6:00

We will be back to school tomorrow. If your child is sick please keep them home. Elementary students don't forget to bring your AMI packets 1& 2 back tomorrow!


Crane Tournament games for rhe rest of the week are canceled.

Due to staff shortages and high amount of student absences, we are closing & utilizing AMI (alternative method of instruction) both Thursday and Friday . Elementary is to do days 1 & 2 in their packets and bring them back Tuesday. 7-12 is to do their work online. If you need internet access you can go to either school parking lot. There will be no practices or games until after 2pm Monday. This includes outside groups using our facilities.

Girls Basketball Thursday's game at Miller has been canceled.

AMI Packets are coming home today. Please either leave these packets in your child's folder or keep them in a safe place at home. Should we have to miss school and it is deemed an AMI day, your child will need to complete the work for that day. All AMI work is due the day we return to school. Elementary is only doing paper packets. All work is review, therefore your child should be able to complete it independently. These packets are not for a day your child misses school, the work is only for days Dr. Johnson designates specifically as an AMI day for the entire district.