We are now enrolling students entering kindergarten through 8th grade for Summer School 2022! Forms went home last week, but if you need another one, please let the Elementary office know so we can send another one home!

Track Sectional Meet State Qualifiers Aric Spyres High Jump, Long Jump, Triple Jump Lily Woodward Triple Jump Boys 4x100 Bkys 4 x200

Baseball Class 2 District 11 First Round Purdy 8 Crane 3

Members of the Crane JH/HS Choirs are proud to honor a fallen officer through the power of music. Thank you to the Stone County Historical/Genealogical Society for inviting us.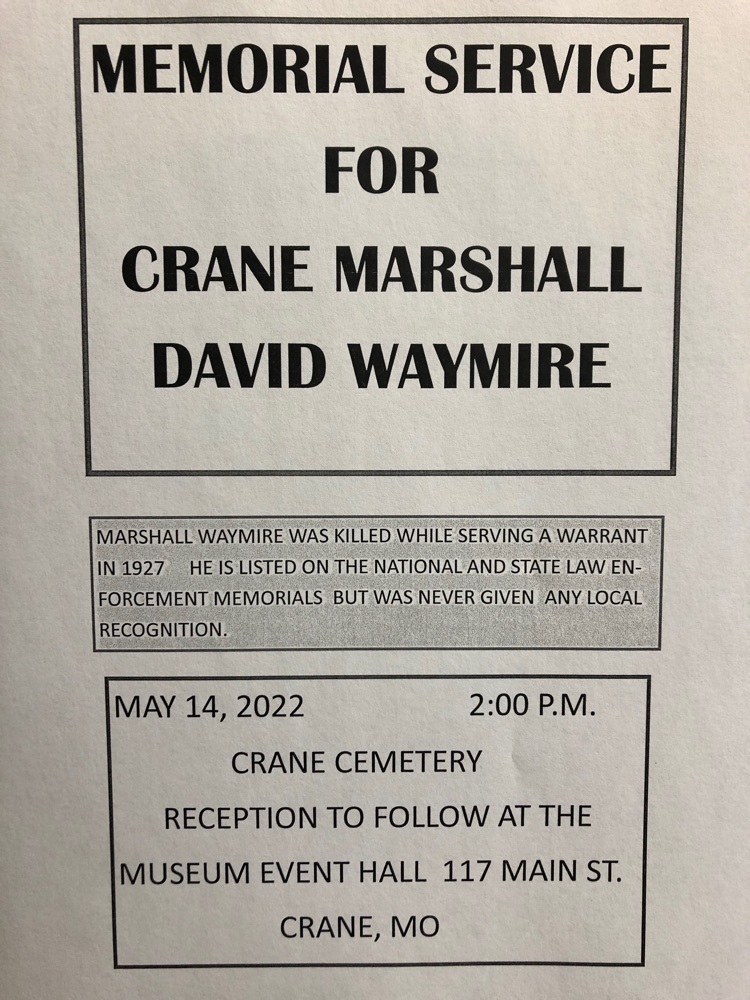 Baseball Pirates travel to Verona to play Purdy in the first round of the Class 2 District 11 Tournament Saturday at 11:00

Track Pirates and Lady Pirates travel to School of the Ozarks for the sectional meet Saturday

Decision Day and Awards are next Friday, May 20th! Our Seniors will be signing letters of intent for college, jobs, trade school and military at 2 pm! Following this, our HS Awards Assembly will take place with classroom awards, academic honors and more! Parents are welcome to attend!

Congratulations to Mr. Pence. He was selected as 2021-2022 Crene R-3 Educator of the Year.

Summer School is right around the corner! Look what's happening with our middle school students during the summer! Forms are in both the elementary and high school office locations!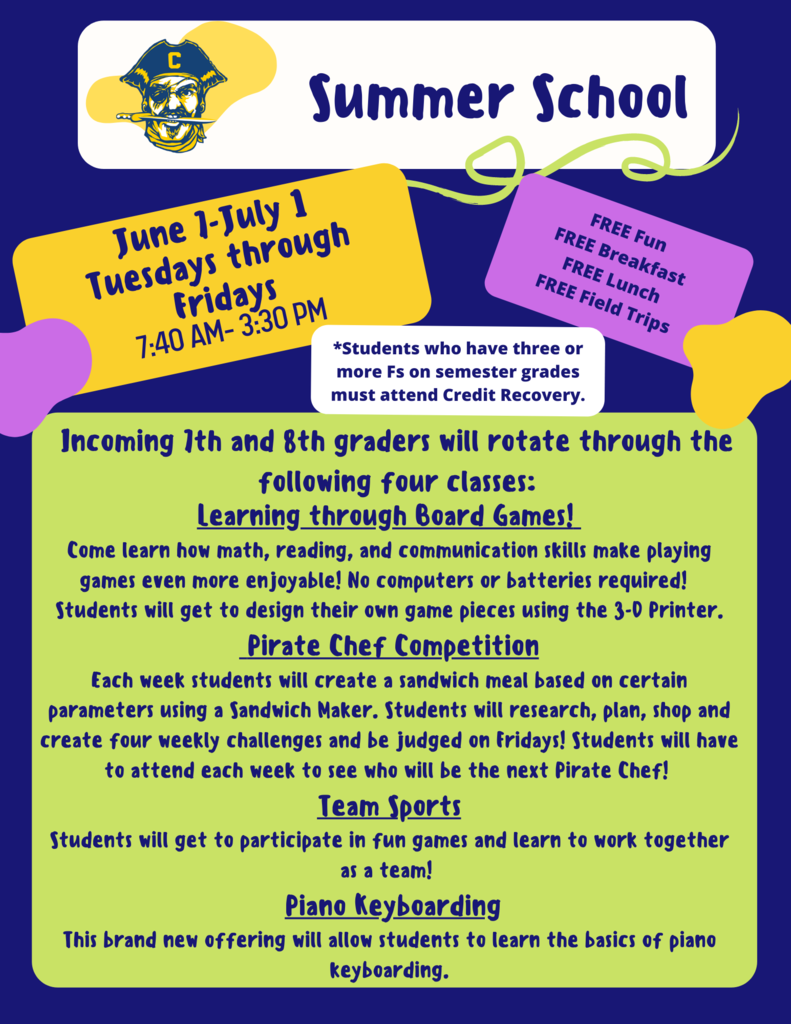 Final score Plato 5 Crane 0

After 3 innings, the score for softball is 0 - 0

Softball Lady Pirates travel to Fordland to play Plato in the championship game of the Class 1 District 4 Tournament Wednesday at 5:00

Softball Class 2 District 4 Tournament Semi-Final Crane 12 Fordland 4

Baseball Greenwood 14 Crane 8 Greenwood JV 7 Crane JV 6

Taking bids on hay on the property across hwy 413 from the Elementary school. You are responsible for cutting, baling, and removing hay in a timely manner. Bid how much you are willing to pay per bale. Turn in bids to central office by 3pm Tuesday, May 17th.

Softball Lady Pirates travel to Fordland to play Fordland in the semi-final of the Class 1 District 4 Tournament Tuesday at 6:00

Baseball Pirates host Greenwood Tuesday at 5:00

Baseball Mansfield 18 Crane 3 Mansfield JV 18 Crane JV 3

Softball Class 1 District 4 First Round Crane 15 Hurley 3