Due to staff shortages and high amount of student absences, we are closing & utilizing AMI (alternative method of instruction) both Thursday and Friday . Elementary is to do days 1 & 2 in their packets and bring them back Tuesday. 7-12 is to do their work online. If you need internet access you can go to either school parking lot. There will be no practices or games until after 2pm Monday. This includes outside groups using our facilities.

Girls Basketball Thursday's game at Miller has been canceled.

AMI Packets are coming home today. Please either leave these packets in your child's folder or keep them in a safe place at home. Should we have to miss school and it is deemed an AMI day, your child will need to complete the work for that day. All AMI work is due the day we return to school. Elementary is only doing paper packets. All work is review, therefore your child should be able to complete it independently. These packets are not for a day your child misses school, the work is only for days Dr. Johnson designates specifically as an AMI day for the entire district.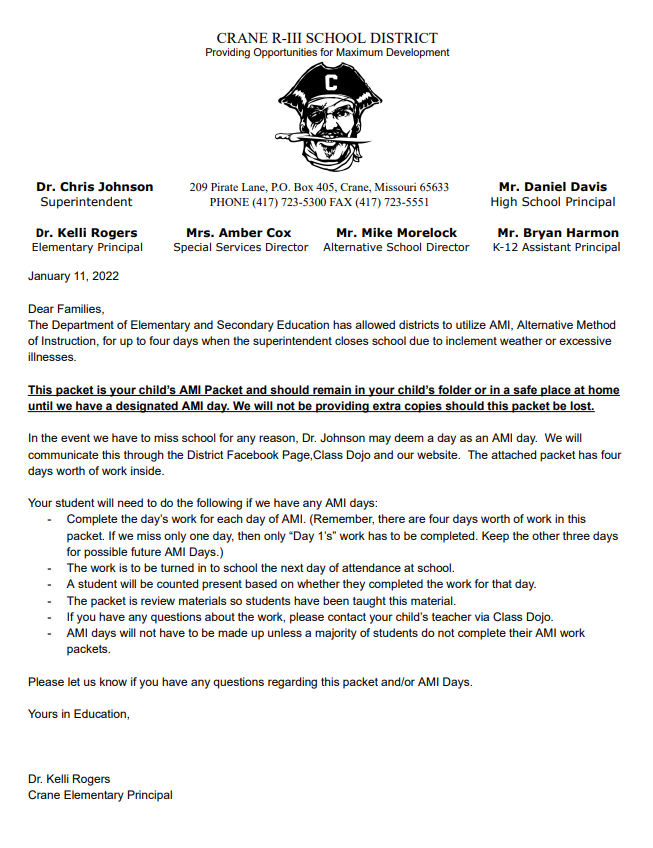 Boys Basketball Crane 70 Billings 39 Final

Boys Basketball Ctane 43 Billings 19 Half


Boys Basketball Pirates host Billings in Pool Play of the Crane Tournament Monday at 6:00


The Junior High Academic Team finished second in the SWCL Meet today.

Crane Tournament Varsity Bracket and JV Schedule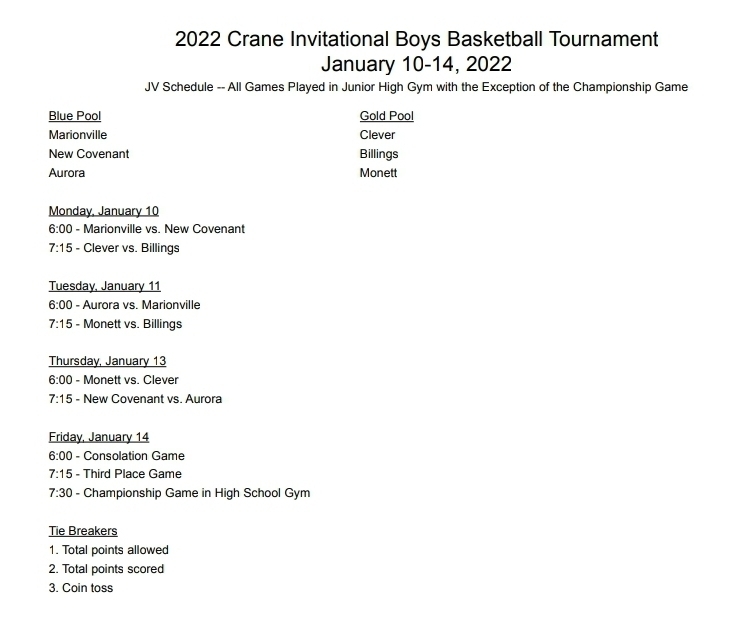 Good luck to our academic teams competing today!

Boys Basketball Berryville 74 Crane 54 Final

Boys Basketball Berryville 56 Crane 30 End 3rd

Boys Basketball Berryville 37 Crane 22 Half

Boys Basketball Berryville 14 Crane 13 End 1st

Boys Basketball Pirates host Berryville Friday at 6:00

Final JV Lady Pirates 32 Purdy 7

Final Lady Pirates 64 Purdy 13

Lady Pirates 37 Purdy 6 at the half

Girls Basketball Crane 17 Purdy 2 End 1st